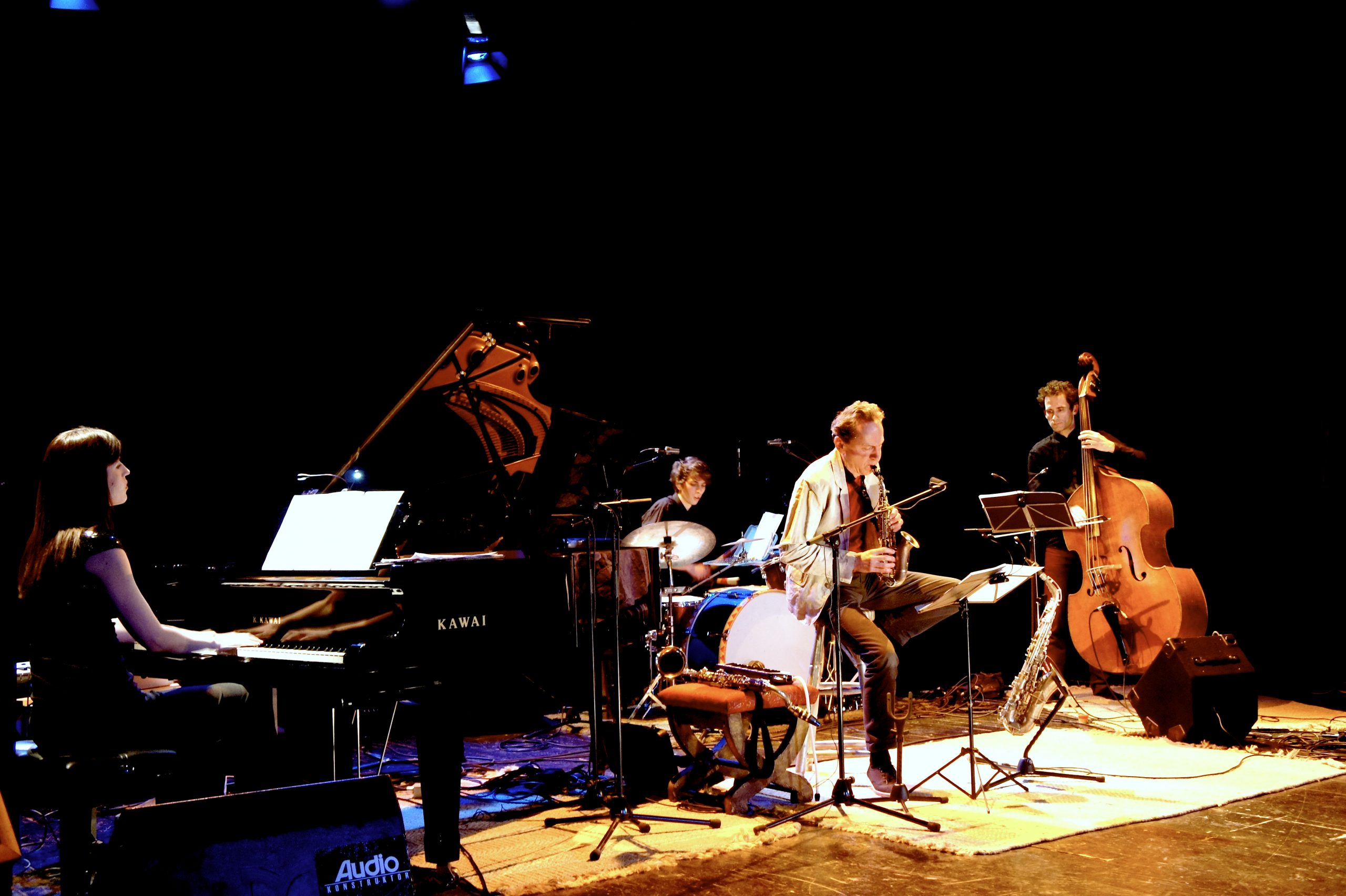 Boris Kovač – New Ritual Quartet
EDIT / Due to weather conditions and a very demanding production, Boris Kovač's concert will be postponed to September 4 at 10 p.m. 
The European Capital of Culture presents the legendary composer and performer Boris Kovač at the concert of his latest project 'New Ritual Quartet', on 4 September at 10 p.m. Music Stage 1  in the District. The concert will be held as part of the opening of the Kaleidoscope of Culture programme.
Boris is a restless author and performer, so this is a unique opportunity to hear his greatest works together with his latest compositions in one concert!
The New Ritual Quartet consists of:
Boris Kovač – soprano and alto saxophone, bass clarinet, melody
Slobodanka Stević – piano, keyboards
Siniša Mazalica – double bass
Lav Kovač – drums, percussion
After 20 CDs under his name and more than 600 concerts in 25 countries, the composer and band leader returns to the stage with a quartet of virtuoso musicians, who are fully committed to the creative performance of his music. Boris' work, which lies between chamber and world music, is deeply contemporary and timeless at the same time, with an authentic undertone of traditional South-eastern European music and with a lot of room for personal creativity. That is why many critics call Boris Kovač the contemporary Béla Bartók. This music comes from Vojvodina, an autonomous province within the Republic of Serbia, a multi-ethnic region where different cultures, religions, and historical influences intersect. Everyone can be heard in this eclectic, crossover and multi-style music. There are two current programmes in this line-up:
Chamber music – with a selection of chamber works by Boris Kovač, suitable for a concert venue;
Dance music – with a selection of dance and film music by this composer, suitable for other venues that communicate with audiences such as music clubs, open spaces, etc.
Kovač Slips Easily Across That Twilight Zone Where Contemporary Composition and Folk Music Touch. – Chris Cutler Resonance, London, 1999.

This music is future classical… – Global Beat Fusion, USA, August 2005

All Kovač's excursions are voyages beyond the expected. – Derek Beres
Boris Kovač (1955) is a composer, reeds player and multimedia artist from the Vojvodina region, the northern part of the present-day Serbia. He composes music for chamber groups he rehearses and leads, moreover, many of his projects are to some extent connected with theatre. During the period from 1991 until 1995 he used to live and work in Italy, Slovenia and Austria.
In 1996 Boris moved back to Serbia, where he led several new projects in which were involved his Ritual Nova ensemble, LaDaABa orchestra, La Campanella orchestra, Chamber Theatre of Music OGLEDALO, Academy of Fine Skills.
He also engaged himself in the work with students, in order to re-establish the contemporary music/theatre scene in his country.
In the last few years he has been also been working with his New Ritual Group, Ultima Armonia (with S.K.Tickmayer) and in a duet with David Yengibarian. His ensembles performed at more than 500 concerts and festivals of World/New/Jazz Music in around 30 countries, travelling across 4 continents.
His albums charted in the Top 10 of the European Broadcast Union (World Music Charts Europe) 3 times. In August 2005, the album 'World After History' reached the second position; the album 'The Last Balkan Tango' was chosen among the best '50 essential albums ever' by the popular Songlines magazine.
Boris Kovač got the biggest Serbian theatre prize – Sterija Award for music in the year 2007 for the play 'Nahod Simeon'.
In 2008 and 2011 he received the prize for the best music from the Cinema City Film Festival.
His DVD 'Before and After Apocalypse', received the prize of the German Critics Association.
In the year 2009, Boris composed the music for the film 'White, White World'. This music got the award as the Best Soundtrack in Serbia in 2010.
Check out the full music programme at the opening of the Kaleidoscope of Culture at this link.
Partners of the Kaleidoscope of Culture 2022 are Erste Bank, IDEA, DDOR, A1 Srbija, and Heineken Srbija.
Photo: Promo