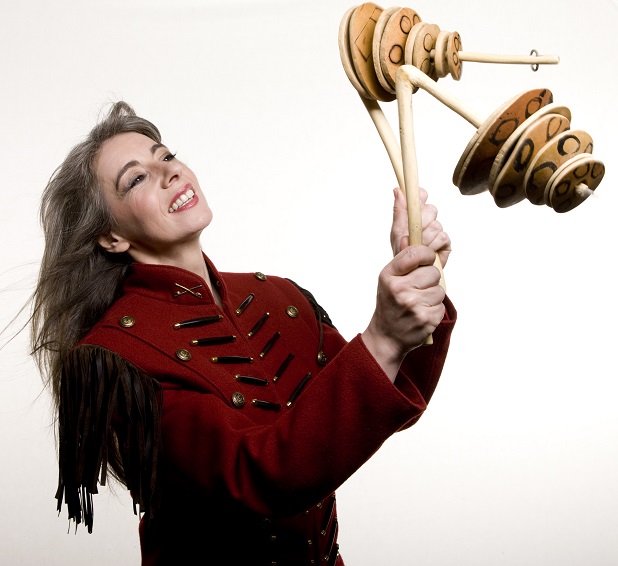 Feel the Sound / Inclusive Workshop with Evelyn Glennie
One of the most famous solo percussionists in the world, Evelyn Glennie, will hold an inclusive workshop 'Feel the Sound' for the first time in Serbia, within the Other? Europe programme arch. The extraordinary workshop will be held in the 'Isidor Bajić' Music School on 8 October and will be intended for musicians, professors of music, dancers, defectologists and everyone who actively deal with music and inclusion.
If you are interested in experiencing the sound and learning about percussion from the two-time winner of the Grammy Award – Evelin Gleny, you can register for the workshop by filling out the application form until October 3rd. Participation is free, but the number of participants is limited to 40. In accordance with the applications, the organizer will select the participants and contact them personally.
The concert by Evelyn Glennie and experimental music artist from Senta, Mezei Szilárd, will be held at the Pera Dobrinović stage of the Serbian National Theatre on 9 October.
Evelyn Glennie is one of the most famous percussionists in the world. She was the five-time Grammy nominee, and she won the award two times (in 1988, for the Best Chamber Music Performance and in 2014, for the Best Classical Instrumental Solo). In 2015, she received the prestigious Polar Music Prize, often described as the 'Nobel Prize for Music'. Furthermore, she published a duet with Björk and performed with numerous famous musicians such as Bobby McFerrin and Mark Knopfler. She also performed at the Opening Ceremony of the Olympic Games in London in 2012.
Evelyn Glennie has been profoundly deaf since the age of 12 and she performs barefoot to feel the music. In addition to concerts, she is known for holding percussion workshops. Her mission is to teach the world to truly listen and offer a different perspective on experiencing music.
You will have a chance to see the work of the extraordinary artist on her YouTube channel, where you can watch her podcasts that she uploads regularly.
Photo: Jim Callaghan