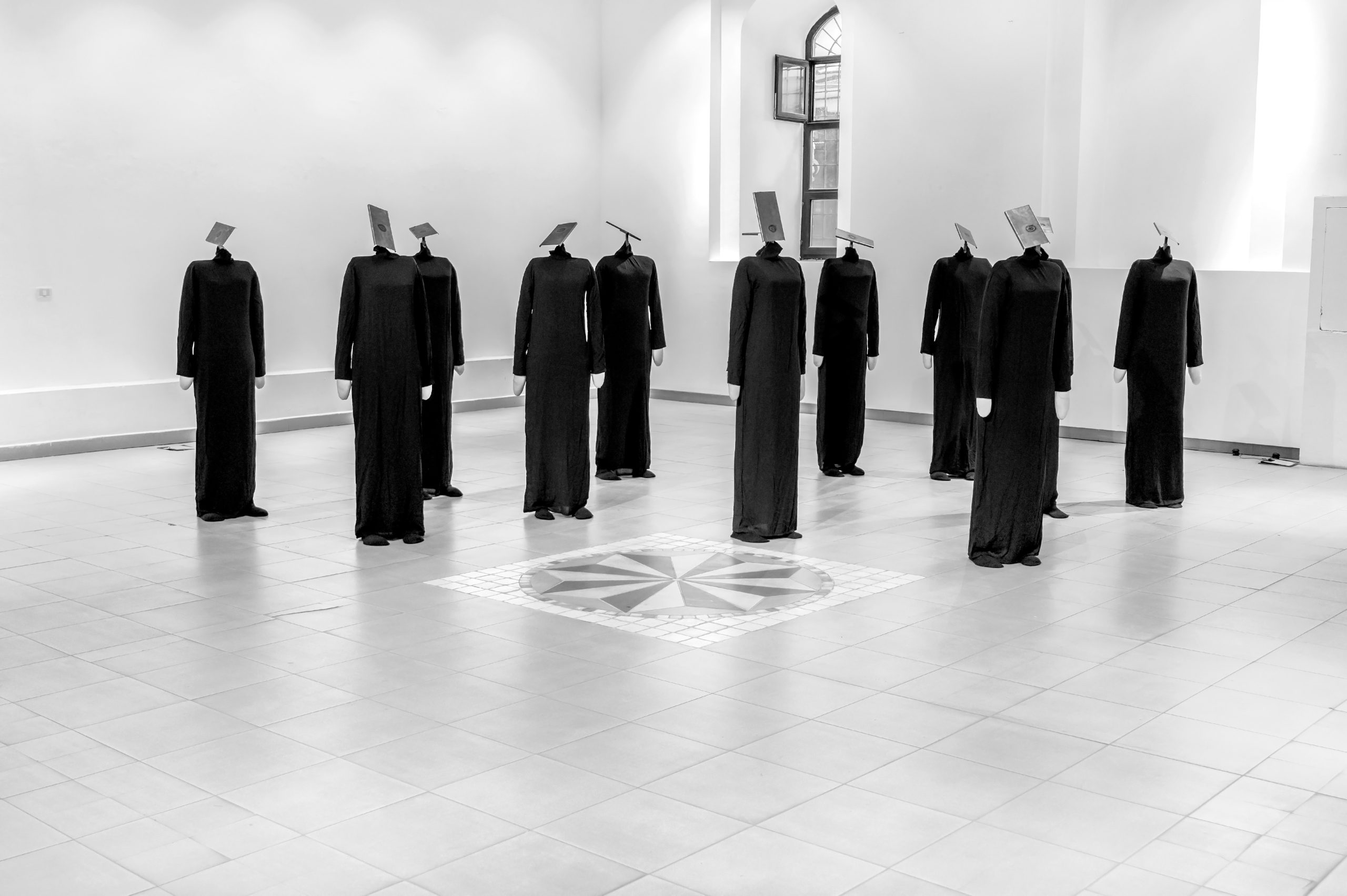 Opening of the Exhibition Gendered Witnessing / Goran Despotovski
The installation 'Gendered Witnessing' by Goran Despotovski belongs to the theme Subscript (2021) and will be placed in the Creative District from 1 to 4 September during the opening week of the Kaleidoscope of Culture programme.
The exhibition is open air and will be available throughout the day, and the official opening and presentation is scheduled for 8 p.m. on September 1. 
Gendered testimony represents and indicates a choral group of twelve puppets (female and male). The doll model suggests a symbol of recognition without identity. With that, the doll is reduced, it has no identity or face, thus opening up a space where everyone can recognise or experience themselves in their own way. All twelve puppets were reproduced in the same way, they were placed with minimal changes that are reflected in the position of the movement of the neck, that is, the head as the only trace of a personal gesture in relation to the position and field of observation.
The group of puppets conceived in this way represents a gender group that simulates the representation of a female choir. The replicated female figures in long dresses with plates instead of heads that strive to go higher speak of a certain form of trance, but also marks important for cognition. On the plates, there are erased traces, fluid spaces, and reflections of records that can be codes, formulas, texts, possible reflections on life.
The sound of this chorus was created by multiplying a female voice, without vibrato, which performs the A tone at different pitches, and with several added tones, it indicates a sublime existence, but also the impossibility of any greater knowledge about it. Namely, it is about the fact that tone A in the first octave represents a tuning fork, which, with its frequency, serves to determine the ratio of tones by pitch as accurately as possible and to tune instruments. The goal was to create a 'pure, neutral' sound free from emotional associations and semantic references and, finally, to allow the audience to write their own meanings into it.
The curiosity of the sound part of the installation is that the final sound result depends on the acoustics of the space, so it is also possible to hear aliquots, that is, sounds that are not part of the integrated recording, and which create a rich timbral impression on the spot. The work thus points to the contradictions of the sublime and the mundane, and thus also to the determinant of gender crises of man. In addition, the work represents, according to the author, a kind of homage to the work of Kati Horna, a pacification of compressed sympathies towards a socially dedicated, engaged human personality that becomes a symbol of suffering and defiance.
Partners of the Kaleidoscope of Culture 2022 are Erste Bank, IDEA, DDOR, A1 Srbija, and Heineken Srbija.
Photo: Promo