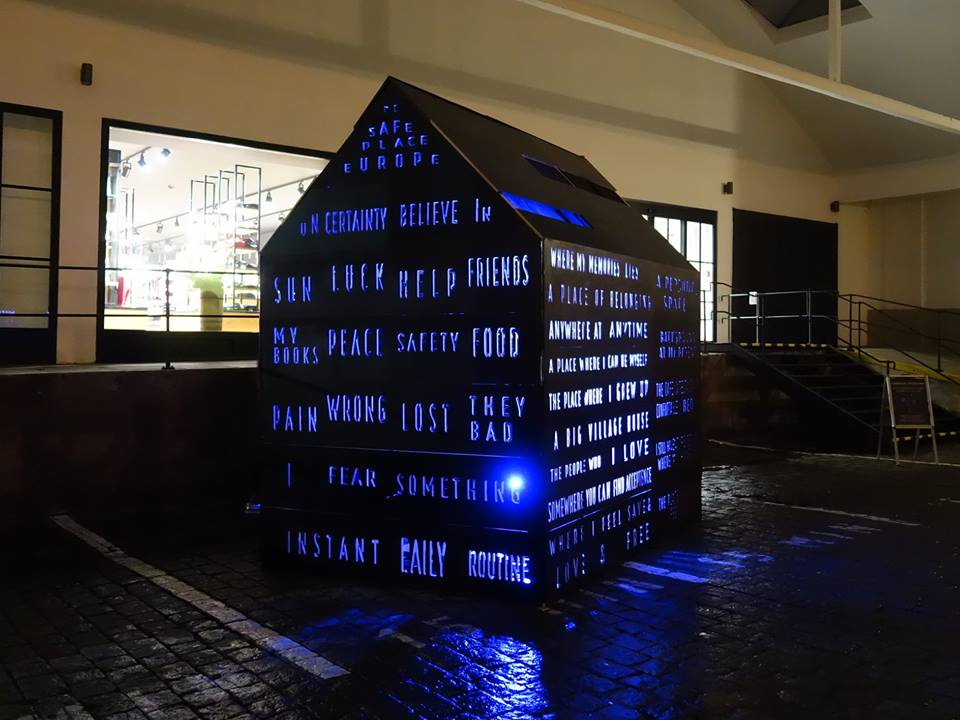 #Meaning of Home_2022
From 23 November to 12 December, a performance and exhibition titled #Meaning of Home_2022 will be held in the District, as part of the Other? Europe programme arch. Within this programme, the meaning of home will be re-examined through an interdisciplinary approach.
The opening of the exhibition is scheduled for November 23 at 7 p.m., and on other days it will be open until December 12 at the following times:
– Monday, Tuesday, Thursday and Friday from 2 p.m. to 7 p.m.,
– Wednesday, Saturday and Sunday from 12 pm to 7 p.m..
Meaning of Home (Farsickness/Homesickness/Homelessness) represents a long-term, interdisciplinary, collaborative project (research, surveys, textual and audio-visual works, performance) of the non-governmental organisation KEC Art Box from Novi Sad, which has been conceived by multimedia artist, Dragan Vojvodić, and a writer, Ljiljana Maletin Vojvodić, during their residency and research projects, in cooperation with artists and locals from the European Capitals of Culture (Plzeň 2015 and Tartu 2024), international residency centres (Typa museum, Konstepidemin, Nelimarkka museum, Gunnarshús), associations of artists or non-governmental organisations EU – Japan Fest in Tokyo, and in Finland, Estonia, Iceland, Czech Republic, Sweden, Japan, etc.
Implemented with the participation of local residents, curators, artists and volunteers from Estonia (Izabella Eck, Tartu 2024 Foundation), USA (Anthony Cervino, Shannon Egan / Ejecta Project), Sweden (Nils Ramhøj), Japan (Japanese artists in ART BOX residence in Novi Sad, thanks to the cooperation with the EU Japan Fest from Tokyo) and Serbia (Stevan Kojić, Virtual.Unit – creative VR lab), the interdisciplinary exhibition #Meaning of Home_2022 re-examines the phenomenon of home in an interdisciplinary, local and international context.
Have social networks become our home? Has the experience of home lost its ethnic specificity in the context of globalisation? To what extent do social marginalisation, pandemics, and migration affect the content of the term? How does society see migrants and the homeless? Can art make us more socially responsible and sensitise our relationship with the marginalised, the Other and the different? How about the people who lost their homes? Those who live in nursing homes? Who are condemned to live on the streets? Is anyone thinking about them? Do we feel empathy? Can we help them, and do we want to help them? Is it our individual or collective responsibility/guilt?
During the exhibition, the creative and educational centre Art Box will also present the publication 'How to Understand New Art Practice', an illustrated bilingual guide. It is a Serbian-English map for moving through Novi Sad's new artistic practice intended for young people – an illustrated conceptual puzzle, the content of which emphasises the most important concepts, ideas, terms, and authors, and draws attention to alternative artistic expressions such as performance, artistic actions, exhibitions and interventions in non-gallery spaces, etc.
At the opening, the VR work of Virtual.Unit – creative VR lab will be presented, which examines the theme of the exhibition in the context of climate change through virtual reality, which visitors will be able to view with the help of a VR headset.