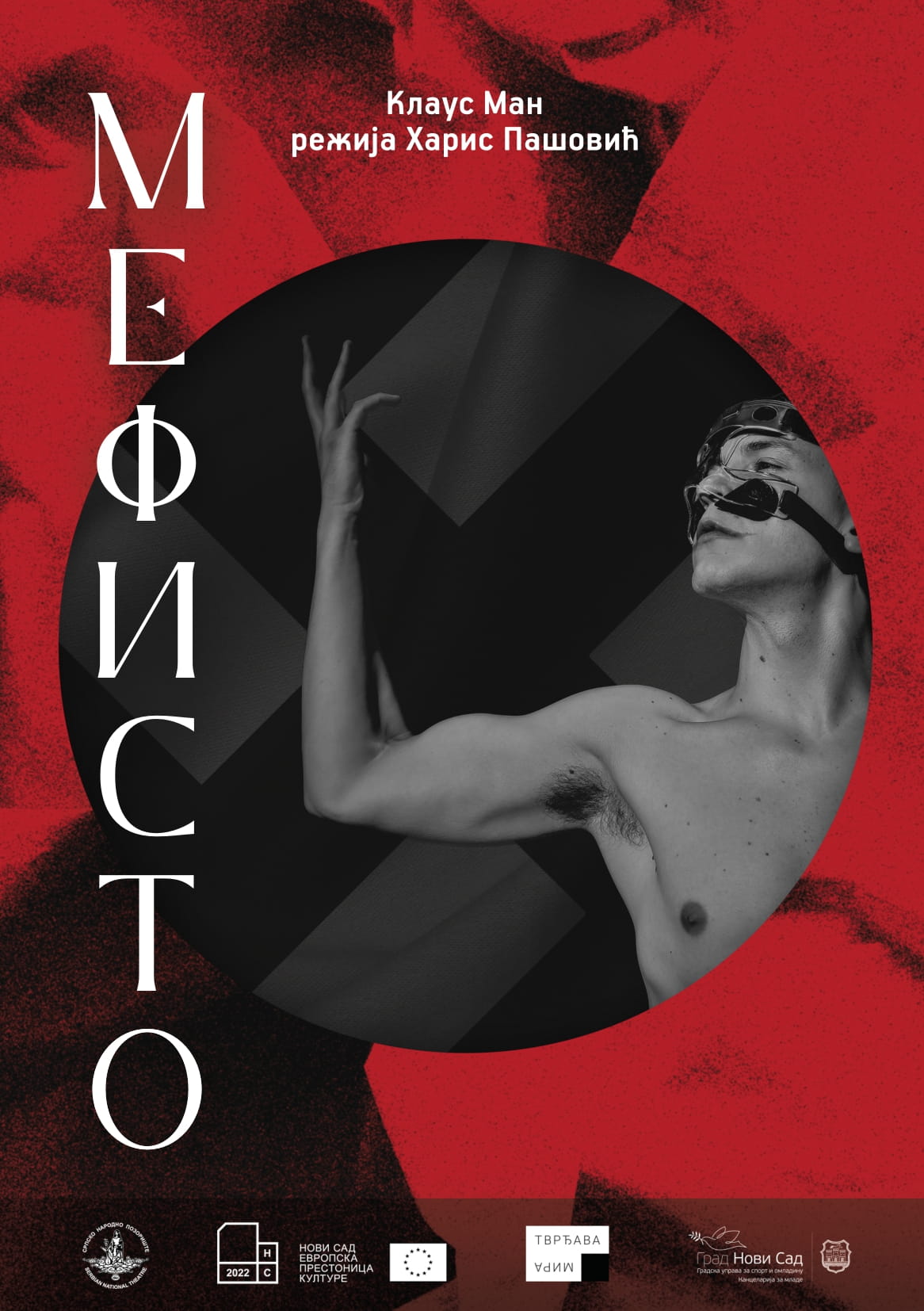 Mephisto
The premiere of the theatre play 'Mephisto' will be held in the Serbian National Theatre on the Jovan Đorđević Stage, on 12 July at 8 p.m., while the second showing will be held on 14 July.
Reflecting on a repressive and totalitarian context in the pre-war and wartime in Germany, the Fortress of Peace programme brings the theatre play 'Mephisto', under the direction of Haris Pašović, based on the Klaus Mann's novel by the same name.
Klaus Mann's work is marked by this novel, which was published in 1936, in the midst of the Nazi regime in Germany, and because of which Mann was expelled from the country. It is a novel whose film adaptation brought the Academy Award to the cult Hungarian director István Szabó (1981), and whose universal story of absolute evil sends a strong message about the importance of rebellion and resistance to everything that threatens the basic values of humanity.
The dramatic text of 'Mephisto' that we will have a chance to see in Novi Sad, follows the plot of the novel without any 'intertextuality', since the story, plot and characters are so exceptionally well written, powerful, interesting and complex and as such, they grow into a universal, timeless story of absolute evil and the rebellion and resistance of the bravest members of the community. Told from a perspective of the theatre in Berlin and Germany's then-star of theatre and film Hendrik Höfgen, the drama 'Mephisto' attempts to depict the rise and fall of the Third Reich, and through the language of theatre openly pose questions about whether and how art functioned together with the greatest state and military evil in the history of humankind, as well as what the ethical, humanitarian and metaphysical consequences of this have been.
The play 'Mephisto' has a whole range of characters, and as such really is a spectacle in the formal sense (number of participants, scenery, costumes, lighting, video), which at the same time perfectly expresses Nazi ambitions, the pomp and monumentality on which they insisted, and which were an expression of their power.
The play 'Mephisto' will gather over 40 actors and actresses, along with the great Serbian actress and actor – Mirjana Karanović and Miodrag Krivokapić, who will be on the stage of the Serbian National Theatre after 30 years alongside the young Aljoša Đidić in the lead role, Gordana Đurđević Dimić, the leading actress of Drama of the theatre, and many other members of the ensemble.
'It is a great honour and joy for me to work in the city where I was artistically formed, where I graduated from the Academy, but it is also a special honour to work in the oldest theatre institution in the Balkans, with a really great artistic ensemble,' said director Haris Pašović.
Tickets for the play are sold at the ticket office of the Serbian National Theater.