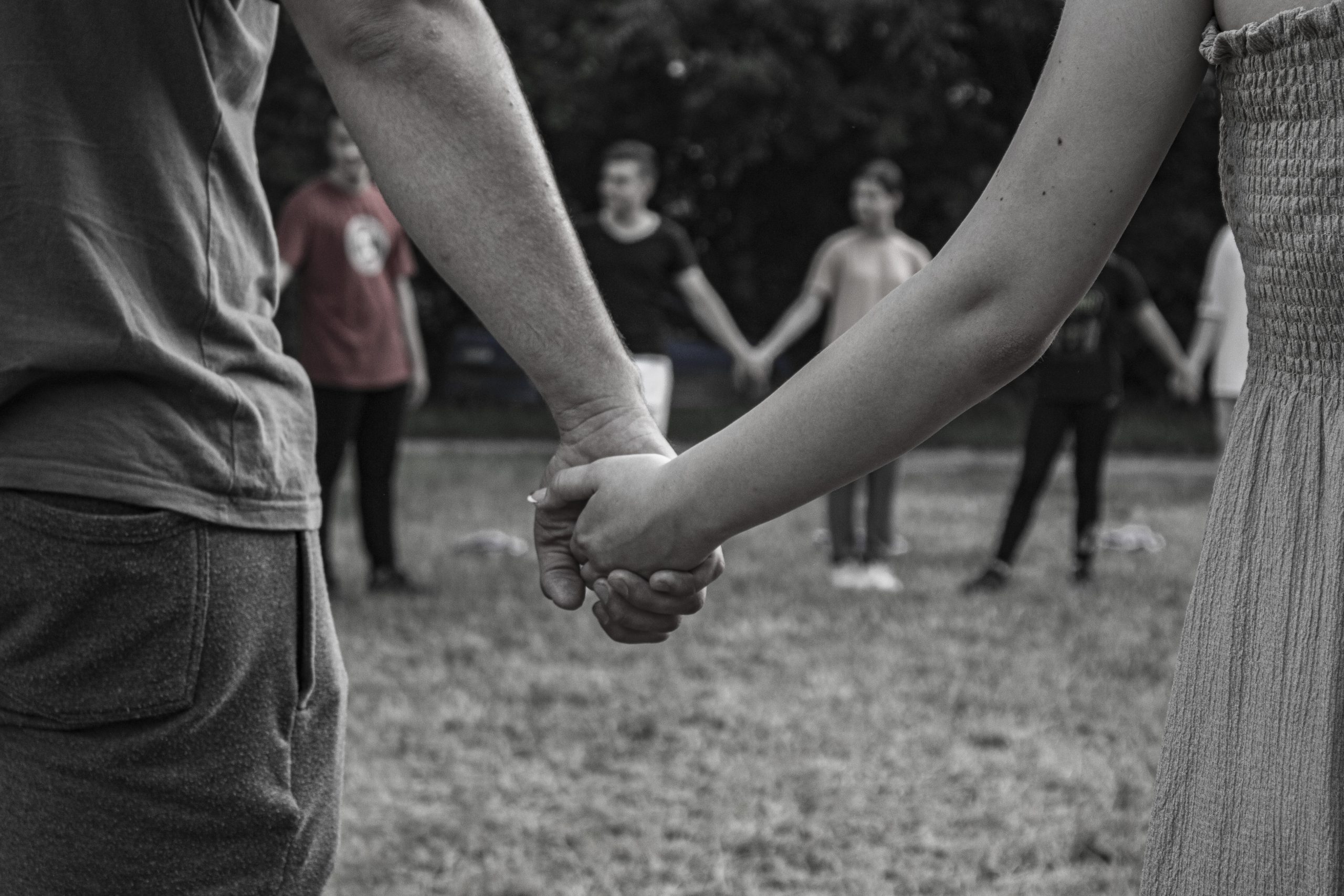 Windward – An Answer to Slet
The performance of the dance performance "Against the wind – the answer to the landing" on Saturday, September 3, is scheduled for 2 times, from 19:00 and from 21:00.
'Windward', a choreographed play, will be performed from 1 to 3 September in the District, as part of the opening of the Kaleidoscope of Culture programme arch.
The performance of the dance show "Windward – An Answer to Slet" on September 2 was cancelled due to weather conditions.
The last slets (mass games/rallies) were carried out from 1986 to 1988. Obviously, after this, no one knew how to dance together like many – the togetherness went into a crisis, and mutual destruction became very popular. For the last 33 years, slet, as a celebration of togetherness, was dead.
Now, when Novi Sad is the cultural capital of Europe, we want to try again.
But please do not get us wrong:
We want to try again, not because we now know how to dance together, but because a new slet might help us figure it out.
Therefore, this 'answer to slet' is an attempt to find togetherness again, but also an attempt at a different togetherness, a different slet.
How can we dance together / when we are not one / but many?

How can we dance together / if so many of us are still confused?

How can we dance together / if we are afraid / of one other?

How can we dance together / if we have no empathy?

How can we dance together / if we are surrounded by violence?

How can we dance together / if we cannot forgive ourselves or others?

How can we dance together / if we do not think alike?

How can we dance together / if the elders will not hear the youth?

How can we dance together / if we dismiss certain opinions lightly?

How can we dance together / if some of us / cannot be seen?

How can we dance together / if we are unfamiliar with our rights?

How can we dance together / if some of us / cannot be heard?

How can we dance together / if we are surrounded by lies?

How can we dance together / if we do not understand each other?

How can we dance together/ if some of us are here / and some of us / are out of bounds?

How can we dance together / if some of us are dead / and some of us are alive?

How can we dance together / if we do not believe / in the same things?

How can we dance together/ if most of us/ are endlessly sad?

How can we dance together / if some of us / are slowly losing our minds?

How can we dance together / if we lose our souls?

How can we dance together / if we are moulded / and we cannot break out of the mould?

How can we dance together / if we refuse to do what we are told?

How can we dance together/ if our actions are destroying this planet?

How can we dance together/ if we all want to be free?

How can we dance together / if we do not listen to the same music?

How can we dance together/ if each of us is unique?

How can we dance together/ if we are divided into / young and old / male and female / friends and enemies / audience and actors?

How can we dance together / if this is just another performance?

How can we dance together / if it does not change anything?

– From the play 'Windward'
'Windward – An Answer to Slet'
'Windward' is a participatory youth play that critically examines the form of slet. Slet is a public event, out in the open, that combines gymnastics, choreography, music, and other artistic elements, and in which a large number of young performers participate in a performance that emphasises group dynamics. Slet can be understood as a specific and controversial European and Balkan cultural heritage associated with totalitarian regimes. Slet is part of the Yugoslav cultural heritage and was represented in the Kingdom of Yugoslavia and the Socialist Federal Republic of Yugoslavia. The intention of this project is to explore and critically review historical narratives and create new interpretations of slet.
That is why the play 'Windward' is not a slet, but 'an answer to slet' – a performance whose creation lasted for six months, and which included 580 young men and women from Novi Sad in total, as well as four directors and four choreographers. The final performance will be presented by 110 young performers with the help of the Youth Theatre's acting ensemble.
The youth actively participated in the creation of the performance and the title 'Windward' through the process of creative workshops with artists.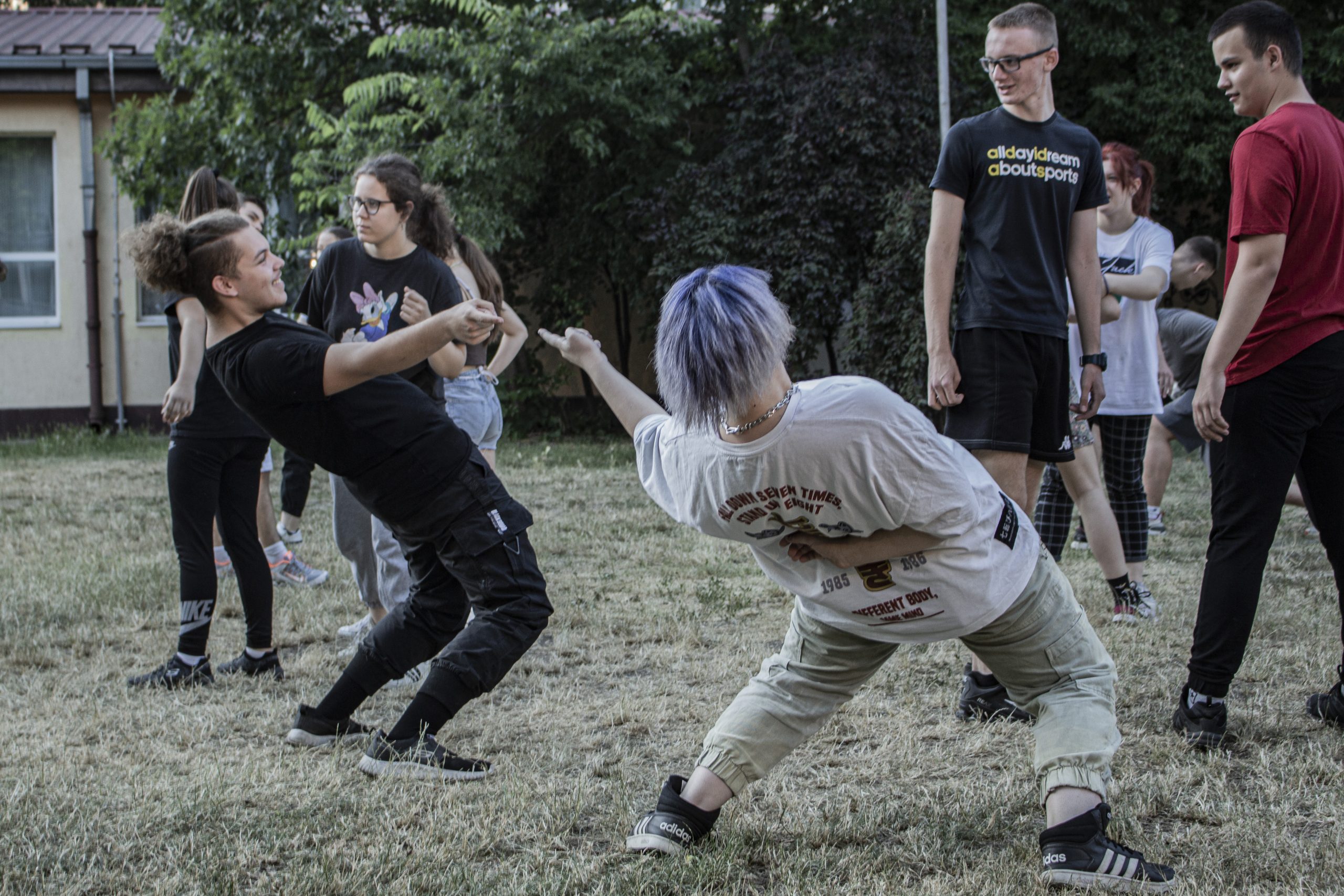 The questions we asked during the process and which we will relay to the audience are: what is togetherness today, how is it achieved, who do we want to follow, what do we mourn for, what do we hope for, how do we make decisions, what do we want and what do we not, do we know what we strive for, what would we change in the past and why, in order to create a common future, what politics are for us, are we included or exiled, what lifts us up when we fall?
The seemingly simple task of reaching and realising what the 'slet of the modern age' is like, required six months of work with an emphasis on uncovering the needs of today's youth and their vision of togetherness in the future, which gave a special value and an unexpected twist that also makes up the quality of this unique performance. Unexpectedness is reflected in the result of months of devoted listening to today's youth and shaping their need to express vulnerability, not just perfection and not just a strict form, and especially not obedience that can hint at a healthy future that they themselves create.
The performance is divided into four parts. A special artistic team composed of directors, choreographers and musicians from the Netherlands, Germany, Austria, and Serbia with a guest musical ensemble from Africa was appointed for each part. With this plural approach, we wanted to create an international and intercultural dialogue within the work itself.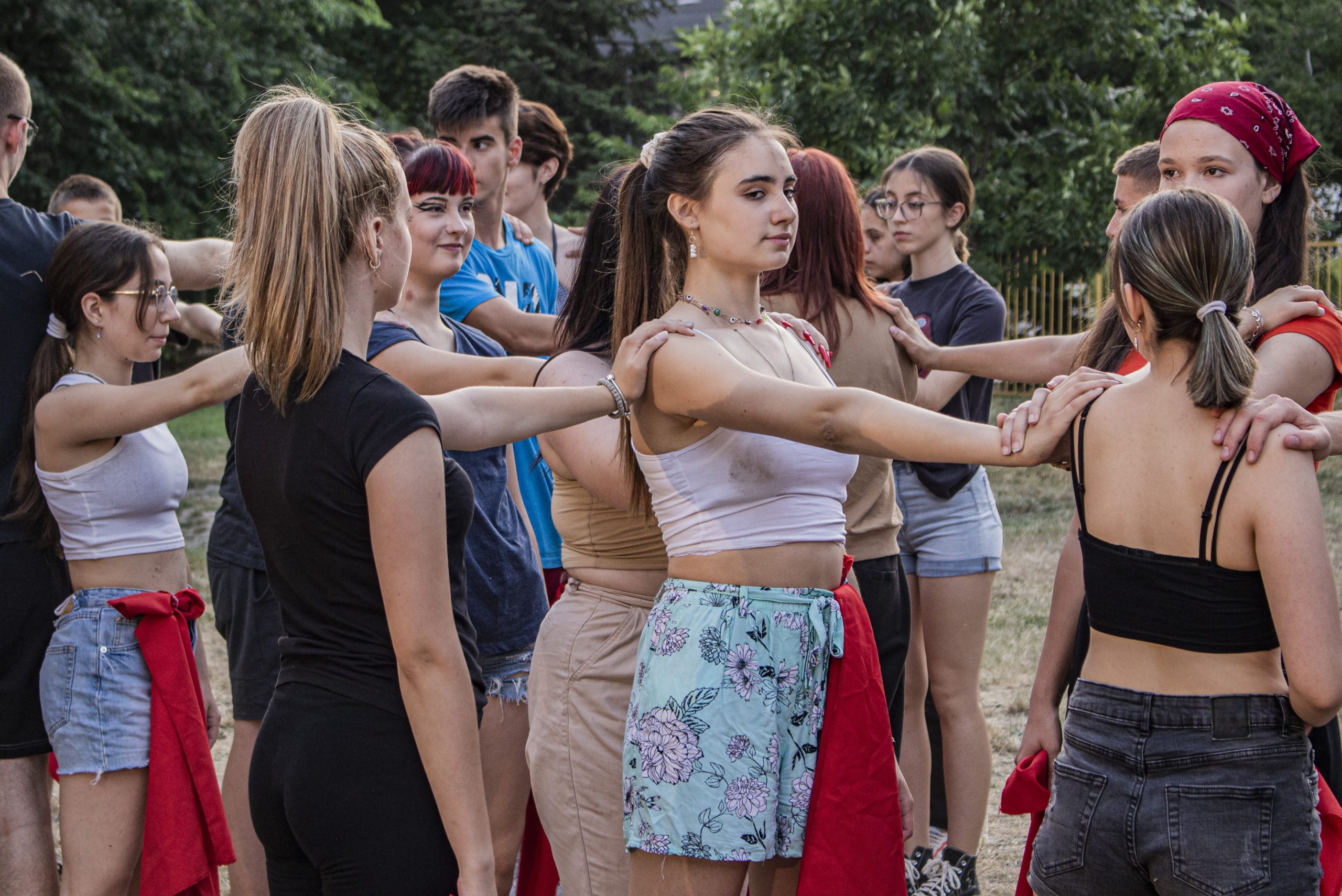 The project is carried out through the cooperation of the Youth Theatre and the Novi Sad European Capital of Culture Foundation, with the ZID Theater from Amsterdam, the Fundus Theater from Hamburg, the Ring Ring Association from Belgrade, and the Viva Dance Academy from Novi Sad, as well as cooperation with numerous Novi Sad schools and cultural and artistic societies.
The project is supported by SPENS, the EXIT Foundation and The Faculty of Sport and Tourism – TIMS.
The project is supported by the Goethe Institute, the Austrian Cultural Forum, and the Embassy of the Netherlands in Belgrade.
Direction
Sibylle Peters (Germany), Karolina Spaić (Netherlands), Maja Grgić (Serbia)
Choreography
Sylvi Kretzschmar (Austria), Naima Baraka (Netherlands), Denes Debrei and Heni Varga (Serbia-Hungary)
Special guest singer and dancer from Africa (Ivory Coast)
Dobet Gnahoré
The band
Colin Laroche, Louis Haessler, Ludovic N´Holle
Original music
Lazar Novkov, Sylvi Kretzschmar, Dobet Gnahore
Costume, scene, props
Matthias Anton (Germany), Monali Meher (Netherlands)
Professional support
Gordana Oresčanin, Sonja Leštar, Dunja Huzjan, Guido van Hengel
Acting ensemble
Darko Radojević, Ivan Đurić, Kristina Savkov, Marija Radovanov, Neda Danilović, Saša Stojković, Slavica Vucetić, Dejan Šarković
Executive production
Marko Bumbić, Ana Stojanović
Project coordinator
Bojan Milosavljević
Short description and history of the slet:
'Slet is a noun of Slavic origin, signifying a landing flock of birds and their assembly on the ground; before it came to denote socialist mass events, it was applied to a similar type of rallies organised by the Sokol (Falcon) movement in the 19th and early 20t century. The movement commenced in Prague in 1862, as a national revival movement, meant to facilitate the Czechs' liberation from Austria-Hungary. Thus, originally a nationalist movement, it soon spread across other Slavic-populated areas of the Austro-Hungarian Empire and became a transnational (Pan-Slavic) movement of emancipation and liberation.

In addition to the Sokol movement, the prehistory of Slet should also include the 19th-century Turnverein gymnastics movement, which started off in Berlin in 1811 and reached its full momentum around the revolutionary year of 1848. Although the movement had a rather turbulent history, we might say that members of the Turnverein were ideologically close to the Sokols, on

account of their nationalist matrix – the founding of clubs and festivals devoted to gymnastics in order to facilitate the unification of the Germans, as well as their physical and moral empowerment. A third line in the genesis of Slet is an ideologically different 19th-century movement: the Olympic revival.

In the early 20th century, Slet had another two ideologically opposed predecessors: the communist rallies and parades of the Soviet Union and similar Nazi events in Germany.

The ideological differences separating these different kinds of Slets were great (nationalism, internationalism, Nazism, communism), whereas their formal similarities define the Slet as a collectivist and egalitarian performance of any social agenda that seeks monolithic social support because it rests on mass choreographies. Therefore, it would be difficult to articulate any aesthetic ideology of the Slet that would be more specific than collectivism and egalitarianism. The similarities were the following: the idea of a physically and spiritually cultivated and strong man as the bodily carrier of social change, the ideas of collectivism and egalitarianism, embodied in mass, participatory performances, and an awareness of the aesthetic aspect of ideology, epitomised in public performances of sports, the arts, and the rhetoric of a specific socio-political agenda.

The procedure with which the Slet generated meaning was an allegory. In that sense, what the collective body performed at the stadium could be interpreted as a 'mass ornament', because it appeared to be a condensed expression of the people's experience, its self-conception, and its own history.

The Slets were indeed an exercise in social emancipation because these events were performed neither by virtuosi, trained to perfection, nor by prominent individuals, but by ordinary people for ordinary people. That, however, did not jeopardise their ideological performativity; rather, it enhanced the circularity at the basis of their ideological operation. contrary to the idea of participation but in line with the idea of young, healthy, and strong bodies, there were no disabled or any other kind of "other" bodies among the performers. this remark problematised the ordinariness of the "ordinary man", relied upon by numerous emancipatory cultural-artistic and social practices, introducing the argument about the preceding ideological treatment of ordinariness itself, coming from an authentic and unrepresentative reality'.

– Social Choreography: The 'Black Wave' in the Yugoslav Slet by Ana Vujanović
Partners of the Kaleidoscope of Culture 2022 are Erste Bank, IDEA, DDOR, A1 Srbija, and Heineken Srbija.
Photo: Promo