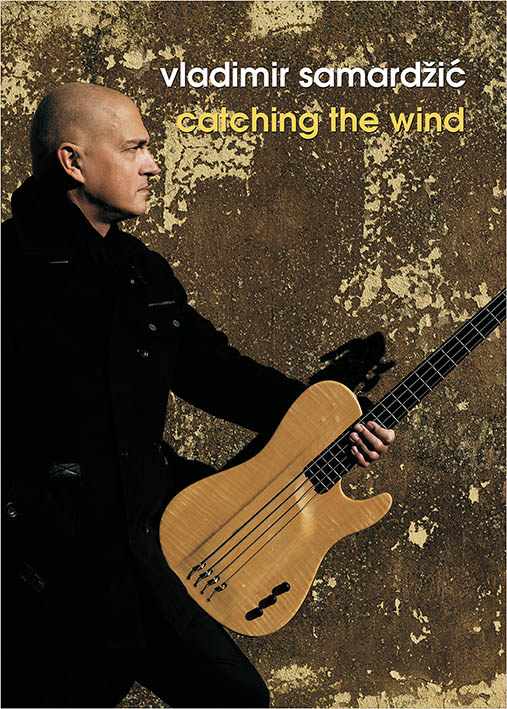 Concert promotion of the album "Catching the Wind" / Vladimir Samardžić Trio +1
Vladimir Samardžić Trio concert will be held Music Stage 2 in the Creative District on 1 September at 8.30 p.m. within Kaleidoscope of Culture.
Performers:
Vladimir Samardžić – Bass guitar
Marco Antonio da Costa – guitar
Vladimir Kostadinović – drums
Andreja Krstić – percussion
"The first album of Vladimir Samardzic in the format of a guitar trio sets him up as a strong leader in composition with a clear stylistic vision. From the first song of Grisignana and the magical voice of Thana Aleksa, he invites the listener on a journey that is hard to resist. It leads through different and exciting paths, atmospheres, and images that leave no room for doubt and indifference. In the first part of the album, CATCHING THE WIND, his collaborator on nylon strings is the Brazilian guitarist, Marco Antonio da Costa, while in the second part, his old friend Nenad Gajin is on the electric guitar. Each of them has brought a unique sound and energy. For this recording, Vladimir reunited with his favorite drummer Dado Marinkovic, creating a strong and rich rhythmic base, while the cooperation with percussionist Andrej Krstic in two duet songs brought new and interesting musical landscapes throughout this windy trip. In the end, leaving Siena, a traveler full of impressions has a lot to carry with, to remember, to feel."

SKC NS

"Mature. Powerful. Diverse. This is not the usual "Bass album", it is full of music of different sensibilities and that makes it special. I listened to all the material in one breath."

Bodan Arsovski – Lebi I Sol
Vladimir Samardžić is a bass guitarist, composer, music instructor and columnist. He is considered one of the most versatile and influential bass players in Serbia and the former Yugoslavia. He collaborates with a large number of orchestras (Belgrade Philharmonic, RTS Big Band, Vojvodina Symphony Orchestra, Mambo Stars, Novi Sad Big Band), famous vocal soloists from Serbia and the region (Amira Medunjanin, Bisera Veletanlić, Jelena Tomašević, Tereza Kesovija), as well as with world recognized jazz and world music names, including Luis Bonilla, Karlheinz Miklin, Thana Alexa, Marco Antonia da Costa, Felipe Salles, Mokhtar Samba, Teodosi Spasov, Marko Đorđević, Bojan Zulfikarpašić, Elvis Stanić, Dušan Jevtović, Vasil Hadžimanov, Nenad Gajin and Slobodan Trkulja.
He was a scholarship holder of the music academy Berklee College Of Music, as well as the Serbian-American foundation STUDENICA. During his studies in Boston (1997-1999), where he graduated with the final result 'SUMMA CUM LAUDE', he received the 'Bass Department Achievement Award' and the 'BMG JazzAward'.
As the bassist of the iconic rock group SMAK (1995-1997, album 'Bioskop Fox' 1995), he gained his first serious concert experiences, and as a long-time member of the Balkan jazz fusion Vasil Hadžimanov Band (2000-2010), with whom he recorded four albums, he performed widely across region and Europe, as well as in Nagoya (Japan) in 2005. With Slobodan Trkulja's 'Balkanopolis' band (2002-2005), he played at a large number of European world music festivals.
With his original jazz quintet PANNONIA PROJECT, he released the album THE BRIDGE, where he presented himself as a composer and arranger for the first time. He was a member of the Croatian electric jazz quartet CHEWBAKKA 4. He performed several times in all large concert and sports halls in Serbia and the region, as well as on large open-air stages in front of tens of thousands of people.
He cooperated with one of the most famous accordionists in the region, Borko Radivojević, on the 'Balkan world music' project – Borko Radivojević Orchestra. The first edition of the web portal and magazine – BASISTA – was published, in which Vladimir start working as a columnist. At the invitation of the world-famous trombonist Luis Bonilla, he becomes a member of his European quintet. In the same year, he started recording his first solo album 'Catching the Wind' with Croatian drummer Dado Marinković and guitarists Nenad Gajin and Brazilian Marc Antonio Da Costa.
For many years he has been active as a bass guitar instructor, lecturer at 'Bass Workshop' workshops in Serbia and the region, as well as at international jazz music seminars. With drummer Branko Popović, he holds the first two-day Seminar for drummers and bassists – BiB, unique in this region.
Vladimir Kostadinovic, award winning drummer (Tuscia in Jazz 2008 Italy, Jimmy Woode Competition) bandleader, composer & arranger is one of the Europe jazz music scene's most sought after drummers, started his musical education at the age of five when he began studying classical accordion and drums. Drums has always been his real love and he wanted to pursue it, with a passion! Vladimir ranks high among drummers who are versatile and savvy enough to play different styles of music, as a sideman and with his own projects. In August 2009 he was invited to perform with a master of organ hammond B3 Tony Monaco. During that time Vladimir also formed his own quartet with Jimmy Greene, Danny Grissett and Matt Brewer which featured his own compositions. In 2009 he went into the studio in New York with his band and recorded his first CD "COURSE OF EVENTS". Shortly thereafter he joined the band Antonio Farao Trio, with whom he is currently playing and traveling all over Europe. Vladimir also recorded his second album as a leader "THE LEFT SIDE OF LIFE" live at the Generations Jazz Festival in Frauenfled Switzerland, which was released for one of the most prestigious jazz record lables in Europe ENJA Records. He published 2 CD's under his own name and recieved rave reviews all over the globe among others in the influential Modern Drummer, Jazz Times, Jazzthing, Jazzpodium and All about jazz Web portal,etc. In last few years, Vladimir has also gone on to put his musical talents to work.
He is currently writing music for his upcoming album and continues to headline concerts across internationally. His goal as a musician: To Serve the Music. Vladimir has spent a lot of time playing and recording in The Big Apple with many great jazz musicians on the world scene. He has had the pleasure of sharing the stage with: Benny Golson, Charles Tolliver, George Garzone,Seamus Blake, Linda Oh, Melisa Aldana, Dusko Gojkovic, Antonio Farao, Martin Fuss, Kevin Hays, Gregory Porter, Till Brönner, Dominique Di Piazza, Chico Freeman, Jimmy Greene, Mike Moreno, Didier Lockwood, John Ellis, Franco Ambrosetti, Danny Grissett, Tim Green, Darryl Hall, Marcin Wasilewski, Tony Monaco, Peter King, Bill Ramsey, Vicente Archer, Joe Sanders, Matt Brewer,Benito Gonzales, Donald Smith, Kiyoshi Kitagawa, Eric Lewis, Antoine Drye, Tivon Scott Pennicott, Mansur Scott, Ziplfo Weinrich, Andre Heller, Andrea Eckert, Maria Bild, Oliver Kent, Uli Langthaler, Johannes Strasser, Francesco Angiuli, Wolfgang Puschnig, Christian Havel, Erwin Schmidt,etc..EDUCATION: He finished primary and secondary music school in Belgrade and graduated from the jazz department for drums in the class of Miroslav Karlovic. After music high school Vladimir enrolled at the University for Musik and the Performing Arts in Grac. In 2009 he graduated his Master's Degree with honours in the class of Professor Howard Thomas Curtis.
You can see the entire musical program of the opening of the Kaleidoscope of Culture at this link.
Partners of the Kaleidoscope of Culture 2022 are Erste Bank, IDEA, DDOR, A1 Srbija, and Heineken Srbija.
Photo: Promo