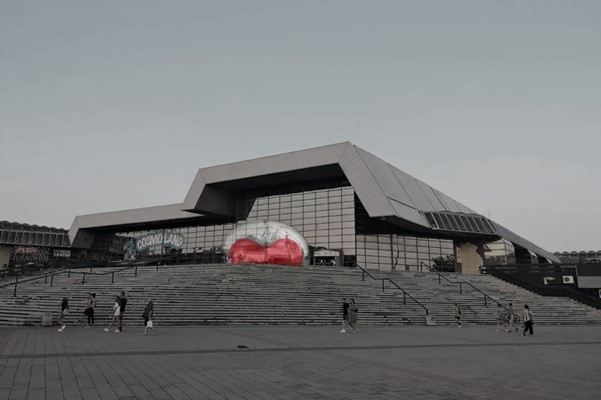 Double heart – Plastique Fantastique / Design Pavilion
'Double heart', an installation by the Berlin-based art collective Plastique Fantastique, will be installed from 30 September to 2 October on the plateau in front of SPENS, at entrance number 7.
The Spens plateaus become spaces for artistic spatial interventions that reflect, complement and emphasize the monumentality of this modernist object. In addition to the works of local authors, the audience will also be able to see a giant audio-visual installation made of balloons by the famous Berlin duo Plastique Fantastique called 'Double Heart'.
In addition to Spens, another gem of Novi Sad modernist construction will be marked by this programme. It is the railway station, where the installation 'Meantime', the result of the long-term friendship and cooperation of the illustrator Marina Milanović and the architect Dejan Todorović, will be installed,.
'Double heart' – Plastique Fantastique, Berlin
'Double heart' is a pneumatic sound sculpture that collects the heartbeats of random people and transforms them into a collective sound-scape.
Two visitors sit inside the sculpture, their pulse is measured, processed and amplied, revealing endless variability of these rhythmic patterns. The beats are transmitted in real time by a sound system and can also be heard by the audience outside the installation.
'Double heart' absorbs frequencies of the human bodies and seeks for a possible compatibility between strangers and beloved, questioning the match as atonal repulsion or natural attraction.
Plastique Fantastique – Manifesto
Plastique Fantastique is an art group which samples the performative possibilities of urban environments. Established in Berlin in 1999, Plastique Fantastique is influenced by the unique circumstances that made the city a laboratory for temporary spaces and investigates alternative, adaptable, low energy spaces for temporary and ephemeral activities.
The transparent, lightweight and mobile installations relate to the notion of activating, creating and sharing public space and involving citizens in creative processes. They are in many ways the simplest of structures – a skin that separates but also connects, that breathes new life into the city and makes the invisible visible.
Today Plastique Fantastique implements their installations in various and diverse environments around the globe, exploring different social, political and aesthetic issues. It is air which makes inflatables. Not plastic.
The partner of the Applied Arts Week is Erste Bank.
Photo: Promo