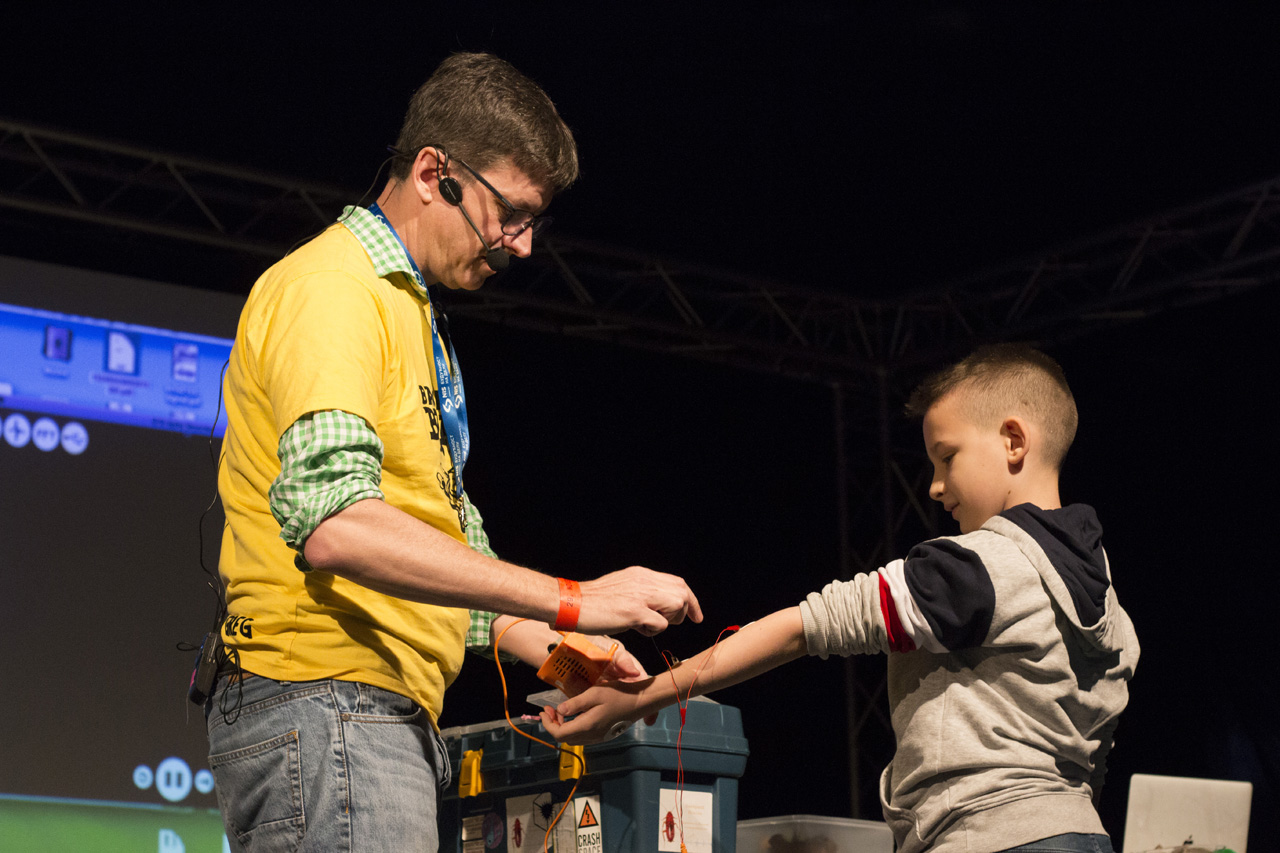 Fascinating Neuroscience / Pannonian Garden
The children's workshop 'Fascinating Neuroscience' will be organised at the Štrand Pavilion on 24 July from 3 until 7 p.m. The workshop is organised within the 'Pannonian Garden' project as part of 'The Danube Sea' programme arch.
Interface Human-Human
Have you ever dreamt of controlling the people that surround you? Family, friends, associates, even strangers? Well, the power is yours now, thanks to the Backyard Brains Human-Human Interface high-tech neuroscience and biotechnology. With their electrophysiological setup, you'll learn first-hand the exciting concepts of neuroscience as your brain sends an electrical impulse to your arm muscles, telling them to move, and when your muscles move, it generates an even bigger electrical signal. By absorbing the tide, you will be able to amplify it further and inject it into the nerves that control the other person's hand.
The Heart and Brain SpikerBox
With the Heart and Brain SpikerBox, you can view and record your heart's activity (ECG) and your brain activity (EEG) using a smartphone, tablet, Chromebook, or computer running their free Spike Recorder software.
The EKG is the body's most recognisable electrical signal, making cameos on medical TV shows for decades. Our experiments show you the steps of how to record your signals and what these signals say about you. Touch the cerebral cortex using our EEG headband to record both brain rhythms and evoked potentials. But wait, there's more! You can also use the SpikerBox to record electrical eye deflections.
Plant SpikerBox
Our Plant SpikerBox enables you to perform data-driven experiments between different types of plants! This easy-to-use device records and visualises the signals emitted by plants, offering users a unique opportunity to take a glimpse of the fascinating world of plant signalling and behaviour.
Check the timeslots of other workshops within the 'Pannonian Garden' project:
23 July, from 9 until 11 a.m. – 'A Walk with a Biologist' / Kamenica Park
23 July, from 4 until 7 p.m. – 'Bees – More Than Honey' / Štrand Pavilion
24 July, from 10 a.m. until 1 p.m. – 'The Hidden World of Insects' / Štrand Pavilion
24 July, from 3 until 7 p.m. – 'Fascinating Neuroscience' / Štrand Pavilion
Presenting cultural heritage and preserving the natural wealth of one of the biggest rivers in Europe are the main ideas of this programme arch. By connecting culture and ecology, the Danube Sea brings artistic programmes as a call to action for preservation and caring for the Danube, with the reference to the cultural heritage of countries it flows through.
Photo: Stefana Budimirović