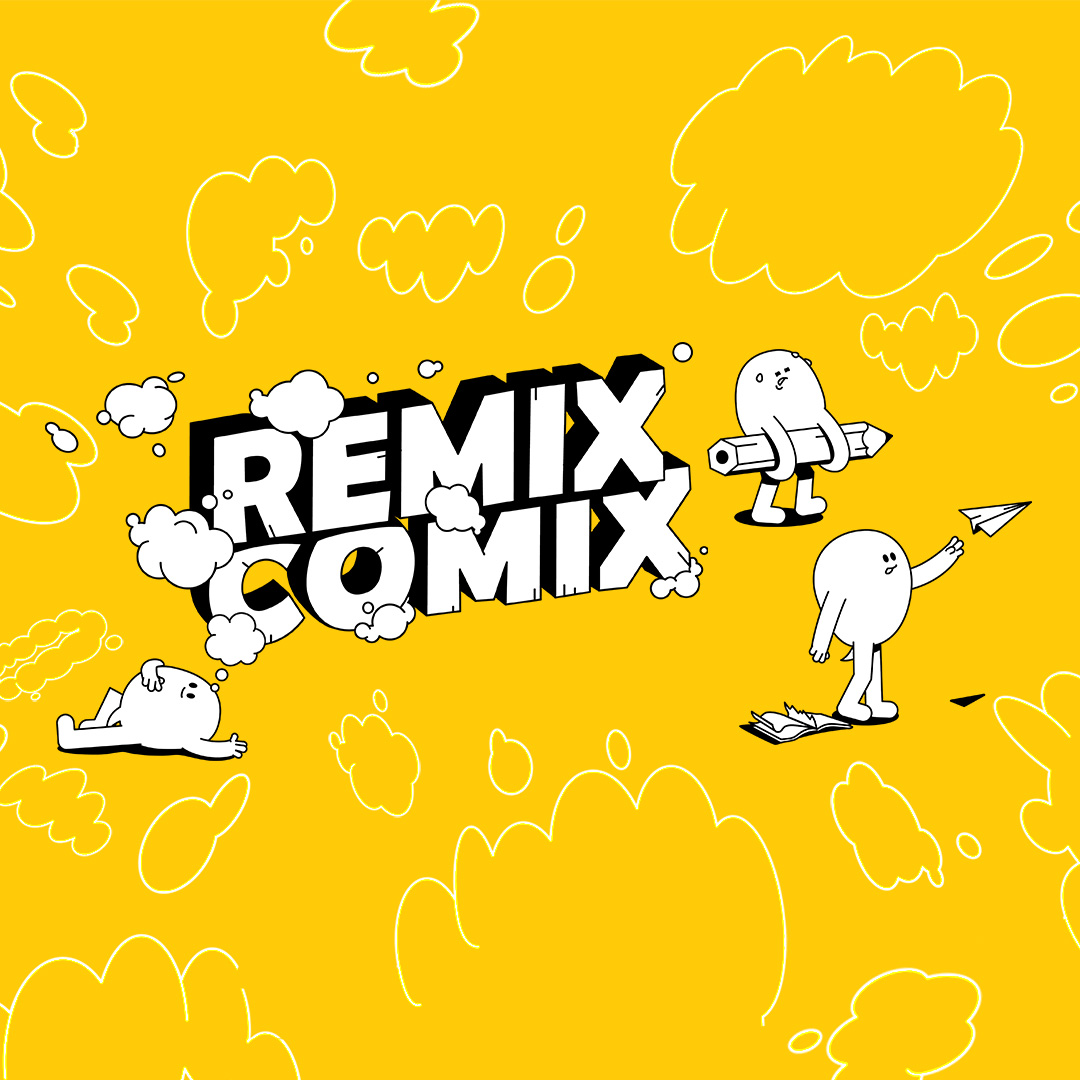 Comics, Heritage and Contemporary Arts / Remix Comix
The conference 'Comics, Heritage and Contemporary Art', will be held from 28 to 30 October in the Fabrika, local 2 in District, within the Comic Book City and the Other? Europe programme arch.
While talking with renowned authors, we will try to find the key to the question: how can urban comics present, repair, and even restore contemporary European cities and lead to more socially just and sustainable goals?
Part of the conference includes lectures, workshops and mural drawing, with the presentation of urban, authorial comics inspired by invisible cultural heritage.
Contemporary world comics artists and comics researchers (art historians, sociologists, historians) will gather around the international project 'Remix Comix' and bring to life 'The City of Comics' programme whole within the 'Others? Europe' programme arch.
Although comics are considered a source of entertainment, careful observers know that it has always been a medium good for thinking about various social turmoils. From Spiegelman's 'Mouse' to Alan Ford, numerous comics encourage their readers to think more about society. Artists from festivals such as 'Tinta' in Ljubljana, 'Nova Festival' in Pancevo, 'Nextcomics' in Linz and 'Luster' in Prague and artists gathered around the LED art collective from Novi Sad will present European the scenes of engaged, original comics worthy of the attention of the wider audience.
The conference will be opened by Ulli Lust, an Austrian cartoonist, who lives and works in Berlin.  At her lecture, she will talk about graphic journalism, and documentary narration, while sharing some of her ideas and techniques.
Ulli Lust wrote an incredibly powerful and heavy book 'Today Is the Last Day of the Rest of Your Life', visualising and narrating a fascinating journey of growing up, gender, life on the street, and imagination. This book, like many of her other works, shows how Lust masterfully tells meaningful stories as modern fairy tales, in a wonderful dance of imagination, reportage, reflection, and philosophy.
Another reason why Ulli Lust became our keynote speaker is her long experience in the genre of urban reporting through visual storytelling. She used to do inspiring reports about Berlin and Halle, in which every detail would tell a story, and all elements of street life came back as characters. Occasionally she mixes fantasy with reportage, as in a beautiful series about (imaginary) floods in the Dutch city of Haarlem.
Together, let's take a peek into Ulli Lust's illustration workshop – how does she observe cities, streets and the people who walk and live there? How does she visualise her stories, how does she make her characters move, talk and come alive?
Programme:
Friday, 28 October / Opening
5 p.m. / Opening of the exhibition 'May the Children on the Street Play with Your Eyes!'
6 p.m. / Opening of the conference
6.30 p.m. / Main guest, artist Ulli Lust (Austria): Documentary reporting and visual journalism. Real-life stories.
8 p.m. / Buffet
9 p.m. / Concerts / Proizvodnja
Saturday, 29 October / Heritage and collective memories in comics
10 a.m. / Three-day (fan)zine making workshop: Oskars Pavlovskis, Kuš! (Latvia)
10 a.m. / Programme opening
10.15 a.m. / Seminar: Remembrance Through Comics: Spiegelman, Nakazawa, Satrapi – Yasco Horsman and Mathijs Peters from the University of Leiden (Netherlands)
11.30 a.m. / Seminar: Representation through comics – Poet and comics critic Canan Marasligil (Brussels, Amsterdam).
12.45 p.m. / Coffee break
1 p.m. / REMIX: Parallel workshops
Workshop: Look at the District with New Eyes
Barbora Müllerová (curator of the LUSTR festival in Prague) will take the participants out on the street, where she will present the basis of the deep mapping method.
Workshop: Storycatchers for Comics and Theater
ZID-theatre (Amsterdam) will present a social game that stimulates the imagination and 'catches' new stories.
Workshop: The Kiss of Wisdom and Madness
Serbian comic artist Mileta Poštić, together with his colleague Jelena Bobić, will present a comic he created for the exhibition of painter Uroš Predić at the Gallery of Matica Srpska.
3 p.m. / Lunch
4 p.m. / Sećanja sa Balkana (Eng. Memories from the Balkans) – Three cartoonists from the region will present their work on regional memories of the Second World War. They are Blaž Vurnik (Slovenia), Boris Stanić (Serbia) and Aleksandar Zograf (Serbia).
6.30 p.m. / Screening of the film 'The Final Adventure of Kaktus Kid' (Đorđe Marković)
9 p.m. / Concerts / Proizvodnja
Sunday, 30 October: Contemporary Art in Comics
10 a.m. / Programme opening
10.15 a.m. / Presentation: Walhalla of Belgian comics – Comics editor Roel Daenen (Belgium) will talk about Belgian novelties in the world of comics, in a country that seems to love comics a lot.
11.15 a.m. / Seminar: Comics in Museums – Barbara Eggert, Next Comics Festival from Linz (Austria)
12 p.m. / Presentation: Comics and Contemporary Art in (Fan)zines – David Schilter, Kuš Festival! (Latvia)
12.45 p.m. / Lunch
2 p.m. / Presentation: Comics in Public Spaces – Akinori Oishi, multimedia artist and illustrator (Japan)
2.45 p.m. / Workshop: Comics in Journalism – Eva Hilhorst, (Netherlands), editor of the visual journalism platform Drawing the Times
4 p.m. / Final session: The Power of Comics
5 p.m. / Sketch Battle
7 p.m. / Zombie Walk (within the Film Front Festival)
8 p.m. / Party
The conference "Comics, Heritage and Contemporary Art" is held as part of the Remix Comix project, and registration for the conference is done through their website.
The event is accessible to people with physical disabilities.

Photo: Promo