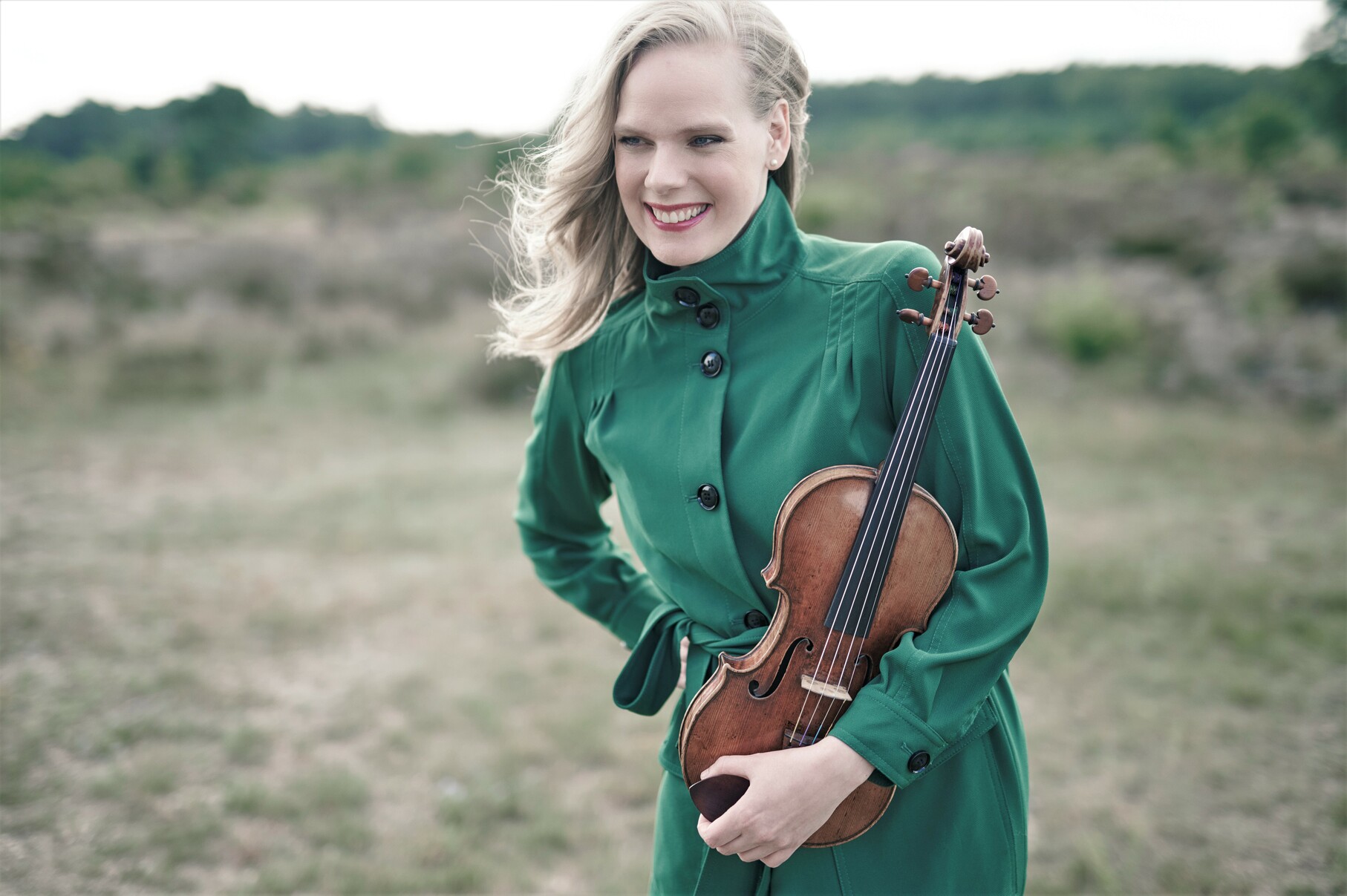 Simone Lamsma and Camerata NS / Vila
Famous Dutch violinist Simone Lamsma will perform together with the Novi Sad orchestra Camerata Novi Sad, in Vrdnik on 3 June at 7.30 p.m., as part of the 'Vila' festival. In this fairy tale setting, you can listen to one of the most interesting interpretations of classical music performed by Simone, an artist both striking and highly respected by critics, whose performances are praised as 'brilliant, sleek, expressive, and intense' (Cleveland Plain Dealer) and 'absolutely amazing' (Chicago Tribune).
With a wide repertoire of over 60 violin concerts, Simon has performed with many of the world's leading orchestras in recent seasons.
'Simone Lamsma played splendidly, with crisp clarity and brightly radiant sound, conveying both the rhapsodic fervour and intriguing pensiveness of the music.' (The New York Times, December 2018)
Notable recent events include her debut with the New York Philharmonic under the direction of Jaap van Zweden, the Santa Cecilia Orchestra with Antonio Pappano, her debut in Berlin with the Konzerthaus Orchestra and Juraj Valčuha, and her return invitations to the London Symphony Orchestra with Gianandrea Noseda, the Royal Concertgebouw Orchestra with Jaap van Zweden, Montreal Symphony Orchestra, London Philharmonic, Rotterdam Philharmonic, Royal Liverpool Philharmonic Orchestra, MDR Symphony Orchestra, Yomiuri Nippon Symphony Orchestra, Houston Philharmonic Orchestra, National Symphony Orchestra, and Netherlands Philharmonic Orchestra.
Simone has performed with major orchestras such as the Chicago Symphony Orchestra, Cleveland Orchestra, Seoul Philharmonic, San Francisco Symphony, Hong Kong Philharmonic, Royal Stockholm Philharmonic, Gürzenich Orchestra, Sydney Symphony Orchestra, Milwaukee Symphony Orchestra, Detroit Symphony Orchestra, Dallas Symphony Orchestra, Oslo Philharmonic, Icelandic Symphony Orchestra, Finnish Symphony Radio, Helsinki Philharmonic, Les Siecles, and Orchestre Philharmonique de Radio France.
In addition to numerous international awards and recognitions, in 2010 Simone received the Dutch National Classical Music Award VSCD in the category 'new generation of musicians', awarded by the Association of Dutch Theatres and Concert Halls to artists who have made exceptional and valuable contributions to the Dutch classical music scene.
In May 2018, Simone was invited by His Majesty King Willem-Alexander and Her Majesty Queen Máxima of the Netherlands to perform during their official state visit to Luxembourg.
Simone started learning the violin at the age of 5 and moved to the UK at the age of 11 to study at the Yehudi Menuhin School with Professor Hu Kun. At the age of 14, Simone made her debut in a professional solo orchestra with the North Netherlands Symphony Orchestra performing Paganini's Violin Concerto No. 1, her debut being highly praised by the press. She continued her studies at the Royal Academy of Music in London with Prof. Hu Kun and Prof. Maurice Hasson, where she graduated at the age of 19 with first-class honours and several prestigious awards. In 2019, she became a member of the Royal Academy of Music in London, a role limited to 300 former students of the Academy and awarded to those musicians who distinguished themselves in this profession.
The 'Vila (Fairy)' festival will be held between 3 and 5 June in Vrdnik on Fruška Gora, the oldest national park in Serbia. The Gothic fairy Tarja Turunen, classical music fairies – violinist Simon Lamsma and violist Tabea Zimmermann, four fairies that make up the band Warpaint, Jenny Berggren from the band Ace of Base, as well as regional fairies Natali Dizdar and Kaliopi, the fairy of Yugoslav theatre Anica Dobra, and many others, will be part of a unique experience this festival will offer in the magical ambience of Fruška Gora through various content – plays, concerts, dance performances, poetry, film, gastronomy, rock camp for girls, as well as programmes for the youngest. You can find the entire festival programme at this link.
Erste Bank is the partner of the Heroines programme arch.
Admission is free.
Photo: Otto van den Toorn